Dürr Universal offers a line of intake air filters with round cartridge-style filter elements. The Dürr Universal series of cartridge filters and filter silencers offer high-performance filtration and silencing in a convenient economical configuration.
Small cartridge filter product features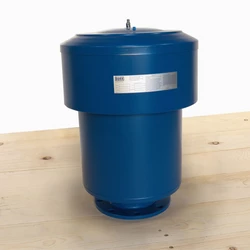 Filters are available in inlet sizes ranging from ½ inch to 16 inches, accommodating air flows of 15 to 7,700 cfm. The CS and CCS series filters include a silencer section. The CF and CCF series filters do not include a silencer section. The CS and CF series filters have top sealing plates, while the CCS and CCF series filters are available with a weatherhood.
Dürr Universal's filters and filter silencers are ideal for vacuum pump, blower and engine applications. Three types of filters are available: pleated paper, pleated synthetic fiber and wire mesh media.
The pleated paper element provides the highest efficiency, while the pleated felt and wire mesh are suitable for less demanding applications.
The paper element is oven cured during drying production and has plastisol end caps and molded sealing beads. The felt element has durable polyester felt media with the same molded sealing beads and plastisol ends caps as the paper element filter.
The wire mesh element is treated with adhesive and recommended for rough filtration only. These filters can be cleaned and reused. Larger filter sizes have metal end caps instead of oven-cured plastisol.