Industrial Absorptive Silencers
Industrial absorptive silencers use sound-absorptive media to provide effective attenuation on high-frequency noise (500 to 8,000 Hz). Absorptive silencers are ideal for industrial fan inlet and discharge, inlet and discharge of high-speed, low-pressure centrifugal compressors and (centrifugal, positive displacement, helicoil, two/tri-lobe) blowers, gas turbine inlets, dry vacuum pump discharge, low-pressure vents, turbocharged reciprocating engine inlets, high-pressure centrifugal compressor inlets, high-frequency noise sources, air valves and cylinders, and axial compressors.
Absorptive silencer construction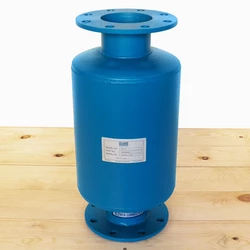 Since noise is absorbed by the acoustically-packed, sound-absorbing media, absorptive silencers do not rely on internal baffles, tubes or other restrictive devices to achieve noise reduction. Consequently, absorptive silencers generally employ a "straight-through" or similar internal design that cause minimal air-flow restriction.
Absorptive silencer models
U5 Series
U2 Series
SU5 Series
SU4 Series
SU3 Series