Blower silencers are required in many types of blowers (centrifugal, positive displacement, helicoil, two/tri-lobe) with application across a wide variety of industries, such as industrial processing, wastewater treatment, chemical, dairy, cement and lime, process gas, soil remediation, milling and baking, dry bulk hauling, power generation, pulp and paper, oil and gas, and aquaculture.
Silencers for blower applications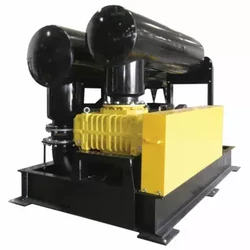 Dürr Universal designs and manufactures absorptive (dissipative-type), multi-chamber (reactive-type) and combination (reactive/dissipative type) blower silencers to meet the specific noise requirements for each application. Custom configurations and accessories can be added to any model depending on the project needs.
Dürr Universal rotary-positive displacement blower silencers are regularly applied to both the intake and discharge sides of the blower. With a resume that includes hundreds of thousands of blower silencers sold to date, Dürr Universal is an industry expert in meeting your blower silencing needs.
Rotary-positive displacement blower silencer models
Dürr Universal keeps many of the standard catalog silencers in stock. Please contact us for availability.