Gas Turbine Inlet/Gas Turbine Exhaust System
A gas turbine is a substantial capital investment. Protecting it begins with air filtration and ends with the exhaust system. The experts at Dürr Universal can help you maintain the delicate balance between air filtration, noise reduction, emission treatments and turbine efficiency.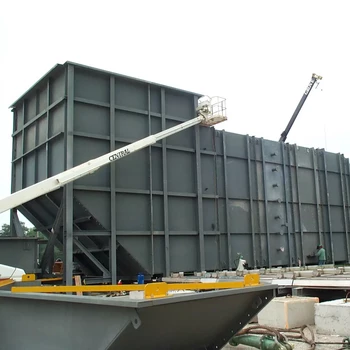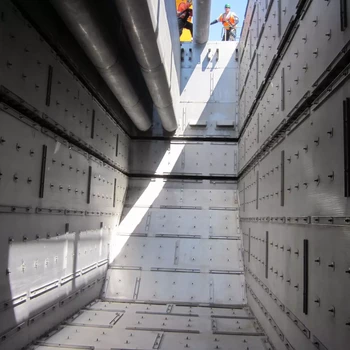 Gas turbine inlet and exhaust systems at a glance
Often there are multiple technologies required for combustion turbine projects. Dürr Universal recommends designing a fully integrated, custom system, rather than buying individual pieces of equipment from multiple manufacturers with varying materials. This integrated gas turbine solution includes various combinations of clean, safe and efficient combustion turbine technologies, which are custom designed, manufactured, installed and integrated seamlessly for power plant reliability and maximum performance.
Dürr Universal's qualified team of engineers provides all components for a complete gas turbine inlet and/or gas turbine exhaust system, including noise abatement baffles, exhaust liners, diffusers, insulated ducting, oxidation catalysts, exhaust stacks and support steel (including platforms, ladders, supports and doors). We can engineer, design, manufacture, ship and install systems complete combustion turbine inlet and exhaust systems.
UNIVERSAL® capabilities include:
Custom gas turbine diffuser ducting and plenum ducting
Dedicated project managers
Multi-plant ISO manufacturing capabilities to meet component design specifications
Global sourcing and supply chain resources to save time and money
Full validation of installation services to assure the system and its components meet customers' needs
Full post-sale support and annual inspection services to ensure all system requirements are fulfilled and the combustion turbine plant is compliant
Total air management
Dürr Universal has offered exhaust systems and silencers for gas turbines for decades. However, we can now design, manufacture and install full filter house and evaporative cooling systems for retrofit and OEM supply. With these capabilities, Dürr Universal takes custody of the air and effectively manages it from start to finish.
Offering a true turnkey approach, Dürr Universal and has the team, quality manufacturing and financial security to ensure a successful project. Dürr Universal's in-house design engineering, ISO-certified manufacturing and safety-focused installation services assures that projects are completed safely, correctly and on time.
Download Brochure: Gas Turbine Air Management

Durr Universal, Inc.
1925 Highway 51 - 138
WI Stoughton
United States
Dürr Limited - Leicestershire
Barleyfield Hinckley
LE10 1YE Leicestershire
United Kingdom