Full Gas Turbine Exhaust Systems
Dürr Universal has a team of technical design experts, which will perform on-site inspections to determine the best options to restore your gas turbine system back to optimal performance. Gas turbine power plant safety and reliability are crucial which is why Dürr Universal engineers our gas turbine exhaust systems, combustion turbine filter houses and support steel in-house to exacting specifications. Our ISO-certified manufacturing facilities assure quality while our installation service team completes the work safely and on schedule. Dürr Universal is the most trusted name for combustion turbine exhaust systems and gas turbine filter systems.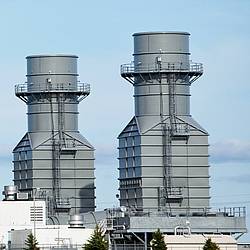 Combustion turbine exhaust silencer components
Gas turbine stack baffles
Lined ducts
Diverter dampers
Bypass and HRSG stacks
Platforms, ladders, stairs
Plenums for combustion turbine exhaust systems
Expansion joints
Oxidation catalyst systems for gas turbine exhaust
Our complete UNIVERSAL® turnkey gas turbine exhaust solutions include engineering the replacement of combustion turbine silencers, exhaust liners, diffusers, insulated ducting, gas turbine exhaust stacks and support steel (including platforms, ladders, supports and doors). Our team will oversee and coordinate the safely completed job including demolition, disposal and installation.
Download Brochure Gas Turbine Air Management
Durr Universal, Inc.
1925 Highway 51 - 138
WI Stoughton
United States
Dürr Limited - Leicestershire
Barleyfield Hinckley
LE10 1YE Leicestershire
United Kingdom